2012 has been a good year.  After a few delays, we were excited to bring InnsMobile and all that it offers to the PAII national and Mid-Atlantic regional innkeeping shows.  In addition to bringing the most competitive mobile product available on the market to innkeepers throughout the country, we were able to get a lot of great feedback.  You asked, and we've listened.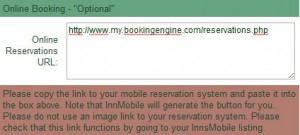 Add online reservations to your mobile website!
After much deliberation, we threw the switch.  InnsMobile users may now activate their online reservations link on their mobile site.  To do this, simply log into your account, visit the Create/Edit My Listing page, and then select your homepage for editing.  About halfway down the page, you'll see the following:
Do note that if you're fortunate enough to have a booking engine with mobile capabilities, you may want to ensure that you do not need to use a separate web address for the mobile version.  For more on booking engines and the dangers of using a non mobile-friendly booking engine with your mobile website, click here.